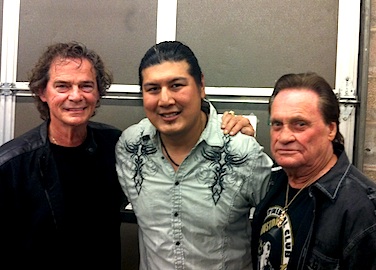 October 17, 2015
El Campo, TX – The first time BJ Thomas, Moses Rangel, Roy Head and The Triumphs were all together in one spot was 20 years ago in Rosenberg, TX. Since then, the bunch had crossed paths from time to time, but not all together. It was a profound moment, even more so because it was for a scholarship fund benefiting our future minds. 
Bright Minds Scholarship Fund is a non-profit organization established for the sole purpose of providing scholarship funds for higher education to graduating seniors throughout Wharton County. 
In 2007, a group of interested citizens implemented a community-wide program to facilitate the collection and distribution of funds to assist worthy graduating high school seniors in their various communities. We want our recipients to feel appreciated, important, and valuable – just like the bright minds of Wharton County that they are. 
Our mission is to raise funds and work with the various Wharton County High Schools to identify graduating seniors worthy of financial support for obtaining a college or technical school education. Eligible graduating high school seniors can download a scholarship application or visit their high school counselor's office. 
Each year students from Boling, East Bernard, Wharton, El Campo and Louise are identified as having potential to successfully further their education and showing a need for financial assistance. 
Just as the book, The Little Engine That Could focuses on what you can accomplish if you "think you can", the Bright Minds scholarship recipients exemplify that same can-do attitude. We encourage you to browse our web site, check out our past recipients or download an application for yourself or a Bright Mind in your life. Investing in our Future – One Mind At A Time. 
– Bright Minds Scholarship