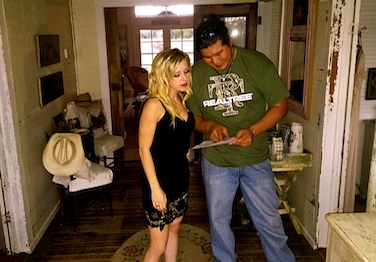 December 12, 2015
Round Top, TX – Moses Rangel's We Ain't Missin' Nothin' video shoot started it's second day at a beautiful location hosted by Jennifer Nicholas. Out on the outskirts of town, Moses Rangel, talent - Leann Mae Schnelle, John & Melanie Mangel, began scripting/acting out a story line that incorporated the "Good Things" in life. 
"We Ain't Missin' Nothin' is not just about hooking up and sexual innuendos, its about not missing out on life." – Moses Rangel 
The video is a mixture of several messages. It's primarily about married couples that face the everyday challenges of work, chores and family. These stresses are usually the cause of problems in our relationships, but sometimes it just takes a fresh perspective to get back on track.

The overall message for this shoot is to not miss out on anything. Go out and have a good time with your friends, enjoy the moment because once it passes, you'll never get it back. 
The We Ain't Missin' Nothin' video is scheduled for a Summer 2016 release.